grounds and walks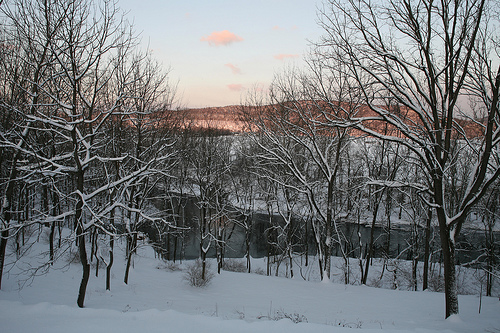 Winter view from The Lacemaker room.
six acres of gardens and woods, as well as local walks and trails
The Cornelis Kool House is set in two acres of gardens and woodlands fronting the Esopus Creek, which runs down from the Catskill Mountains and into the Hudson River at Saugerties. A further 4 acres of woodlands reach across to the rail trail. The covered porch, bluestone patio as well as benches and picnic tables provide ideal spots to relax and enjoy the view across the Esopus valley to the mountains of the Catskill State Park.
We are right on the Delaware and Hudson Canal Heritage Corridor, with 2 miles of a paved trail to the northeast and 7 miles of a woodland walking/cycling trail to the southeast, to High Falls. (There you could choose from many places to eat, explore the shops, or visit the Canal Museum).
When the State University of New York at New Paltz conducted an archeaological dig on the land they found Native American artifacts dating back to 2000 BCE. This site has been continously occupied since that time, first by the Esopus Indians and then, from the late 1600s, by the Dutch colonists, as they moved up the Hudson Valley. Sitting in our garden you can sense why the site is so naturally attractive - the river, the mountains and the woods seem to have their own special energy.