things to do
In HURLEY don't miss Stone House Day or the Fall pumpkin canon and other events at Gill's Farm Stand, just around the corner from our house, every weekend in October. For the last three years, this has included a free concert by Levon Helm!
Be sure to visit Hurley main street and take a look at the museum. Take your children to the Hurley Country Store for a great selection of toys and see the model train sets in action! The Bevier House Museum is also recommended, and is only a two minute drive away.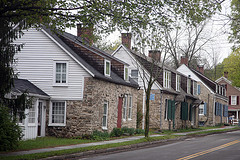 Hurley
KINGSTON's stockade area is only 10 minutes away, and is rich in history, with a great farmers' market every Saturday morning May through November. A good way to explore this area is to join a guided walking tour. Great dining choices include the outstanding food at Le Canard Enchaine. The Ulster Performing Arts Center is just as close, and hosts internationally famous stars, such as Garrison Keillor and Yo-Yo Ma. The Roundout's rejuvenated and attractive waterfront is a 15 minute drive and offers restaurants, a maritime museum, a trolley museum and a promenade - take a river cruise down the Hudson from here, or just enjoy looking at the yachts.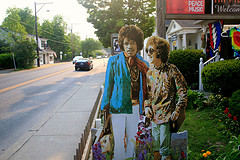 Woodstock
In WOODSTOCK (18 minutes drive) visit the many great cafes, art galleries, shops and restaurants, including a Saturday flea market. In the summer, enjoy one of the concerts from the Maverick concerts series in a uniquely beautiful and historic site. Drive up to Overlook mountain, park near the famous buddhist monastery, and hike to the top for a great view. Enjoy streamside or fireside world class dining at The Bear Cafe - but book early!
In SAUGERTIES (16 minutes), follow directions to the lighthouse, where a boardwalk over natural wildflowers and paths along sandy beaches take you to a magical place where you can have a picnic or bathe in the Hudson. Enjoy nature trails where the Esopus meets the Hudson. We're a great place to stay for the horse shows at HITS. Driving back, see the amazing 6 acre outdoor sculpture that is Opus 40.
Enjoy the views of the CATSKILLS and the SHAWANGUNKS as you drive to STONE RIDGE (6 minutes) or HIGH FALLS (12 minutes) which offer several antique shops and restaurants as well as gift shops. High Falls has an old water mill, locks and a canal museum. (Or bring your bike and cycle 7 miles to High Falls along paths from our house that follow the old canal routes!)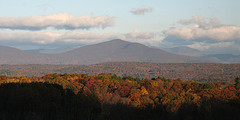 View of the Catskills from the Shawangunks
Drive on from High Falls a further 10 minutes through wonderful SHAWANGUNK scenery to reach the Spring Farm Trailhead to enter the Mohonk Preserve for an unforgettable day. You can drive there from us, hike up to Bonticou Crag, and return in under 2 hours.
In NEW PALTZ, the Historic Hugenot Street is a very special historic site where you can tour inside the colonial stone houses, preserved in their original village setting. You'll be the only visitors going back to sleep in one! While you're in New Paltz, check out the Water Street Market for great antiques, cafes, galleries and fashion shops, or enjoy a meal at the great Village Tea Room.
In Winter, go cross-country skiing along 30 miles of trails, some with spectacular views, from the Mohonk Mountain House, or for free along forest trails adjacent to our property. Alternatively, the Mountain Traills Cross Country Ski Center in Tannersville is ideal if you need to rent equipment or take lessons.
In ROSENDALE (15 minutes) you can find a popular outdoor SWIMMING POOL and children's playground. Rosendale lies on the Roundout creek and is well known for its pickle festival in November.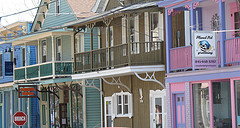 Rosendale
CINEMAS can be found at Woodstock, Saugerties, Kingston, Rosendale and Rheinbeck.
RHINEBECK, with 437 sites listed on the National Historic Register and four or five blocks of shopping, is a popular tourist destination. An 18 minute trip there takes you over the Kingston-Rhinecliff bridge, with spectacular views of the Hudson and the Catskills as you drive back home. Have a drink at the Beekman Arms, which has been hosting guests since 1766. Experience fine dining at Terrapin, or Gigi Trattoria. Treat yourself to a range of spa services.
The Dutchess County Fairground in Rhinebeck hosts many outstanding events through the year. Whether you're into antiques, crafts, food and wine, custom cars, or the immensely popular sheep and wool festival, there's something there for everyone. Book your accommodation early with us at peak weekends!
While you're east of the Hudson, visit grand historic homes such as Olana, Clermont , or Mills Mansion. Look out for fairs and festivals at these sites.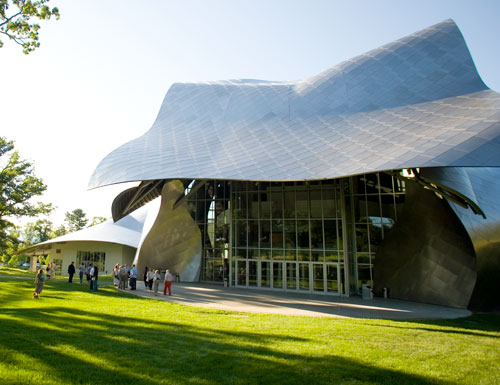 Fisher Center for the Performing Arts
Go to the visually stunning Fisher Center for the Performing Arts at Bard College, designed by internationally renowned architect Frank Gehry, just 25 minutes away. Tours of the building take place every weekday. The Summerscape arts festival is a must, with opera, dance, theatre, film, music, and the famous Spiegeltent.
Finally, don't forget that NYC dance performances can be previewed at the Kaatsbaan International Dance Center in TIVOLI, half an hour away - for only $25 see the New York City Ballet, the Limon Dance Company, Maureen Fleming etc. up close in an intimate atmosphere.